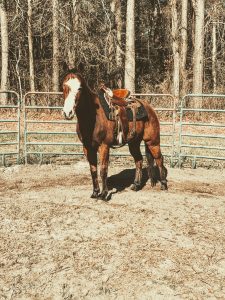 7yr – 15/15.1h – Pinto – Gelding
A visit from the farrier got his fronts evened out a bit (it will take multiple trims and will need to be on a diligent routine) and we got a green light for work! Since his fronts were so uneven for an extended period of time, he is relearning how to properly carry his body as we loosen up tight muscles and tendons. He has really started to loosen up in his neck, shoulders and back. Since he is starting to feel more comfortable, he has been offering up more than before. He is trotting comfortably under saddle and is slowly being conditioned to canter for longer periods. This horse has a lot to offer and will give you all his try if you are willing to work with him.
Niles is best suited for a laid back home. He enjoys trail rides a lot and is a slow poke who isn't spooky. He has a smooth canter but isn't headed anywhere fast.
UTD, hauls perfect, ground manners, barefoot, ties, bathes, good for farrier, low man in the pasture.